Plain of Six Glaciers, Canada
Monday, July 03, 2017
The Plain of Six Glaciers hike is one of the most popular hikes around Banff, and with good reason. Although you will deal with large crowds, especially in the summer months, the hike is fantastic and rewards you with gorgeous views of Lake Louise and its surrounding glaciers. This hike also features a backcountry teahouse, perfect for a mid-hike pick-me-up. What more can you ask for?

Logistics
In the summer months, parking at Lake Louise can fill up very early. Luckily, we were able to take a shuttle that ran between Lake Louise and two overflow lots, one in downtown Lake Louise and another further south along the highway. If you do take the shuttle to Lake Louise, make sure to note the last departure time. The hike can take several hours, so plan accordingly.
If you plan to visit the teahouse, be sure to note the operating hours and bring cash.
The Hike
We did this hike as an out-and-back on the trail that runs along Lake Louise to the Plain of Six Glaciers Teahouse. This trail is mostly flat for about 1.5 miles until it leaves the lakeshore, at which point it climbs gradually upwards for 2.2 miles until you reach the teahouse. Even in July, we still needed to cross some unmelted icefields on the way to the teahouse.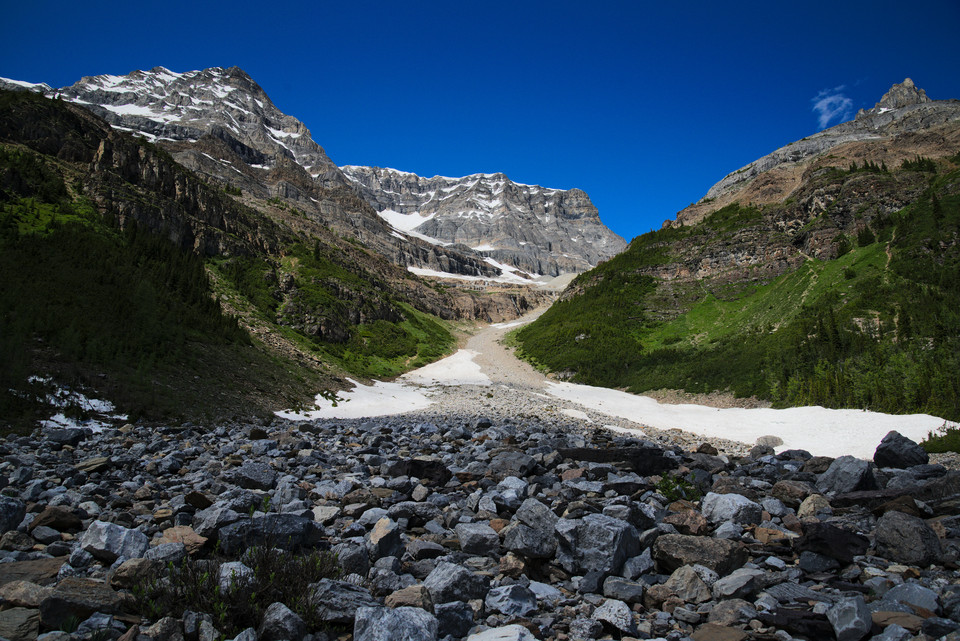 After you reach the Plain of Six Glaciers Teahouse, the trail continues for about another mile to the Abbott Pass viewpoint. This section of the hike offers panoramic views of several glaciers including Victoria Glacier, and even features a small waterfall at the very end. Note that the last part of the trail gets extremely rocky, so watch your footing.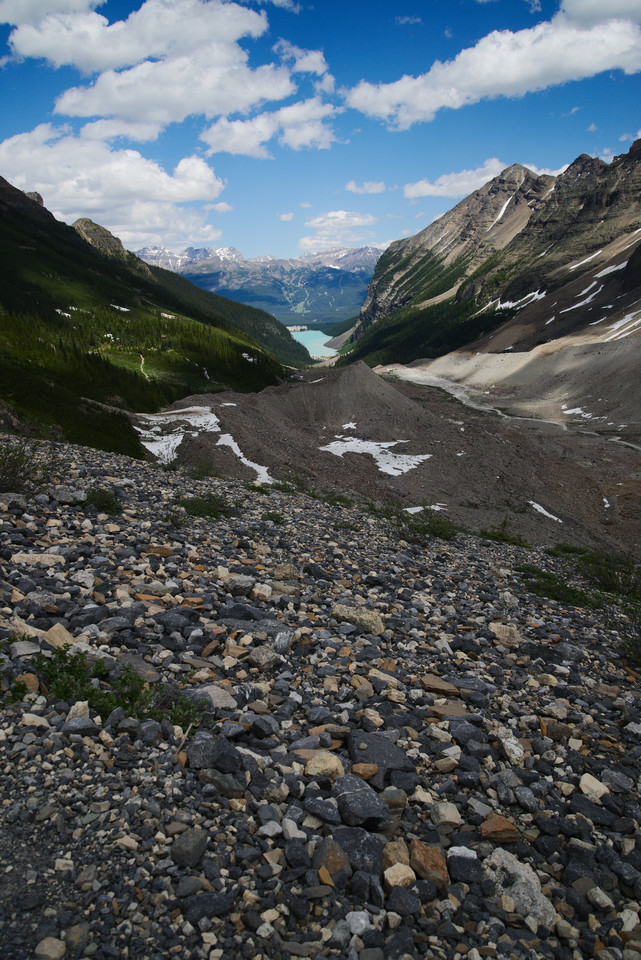 In the summer of 2017 when we did this hike, we accidentally took a wrong fork on the way back to Lake Louise, which eventually led to a dead end. The incorrect fork began near an icefield and led downwards following the river, as opposed to upwards hugging the mountainside. To avoid confusion, we've omitted the return trip from the GPS map. There are also trails that run up to Lake Agnes and/or Mirror Lake which can serve as alternate return paths.
GPS Track Map
Note that the map below only shows the one-way trip from Lake Louise to the Abbott Pass viewpoint.
Enable JavaScript to view the GPS track map.