Glacier Point Winter Camping
Saturday, March 19, 2016
Rating: ★★★★
Location: Yosemite National Park, California
Days: 2
Distance: 21mi
Cumulative Elevation: +1,600ft -1,600ft
Min Elevation: 7,200ft
Max Elevation: 7,800ft
Photo Gallery: Yosemite - Glacier Point
Glacier Point is a great winter destination for intermediate cross-country skiers and snow campers. The views of Yosemite Valley and Half Dome are amazing in the winter and are worth the trek to reach it. Like with any winter trip, always check the weather forecast and only attempt the trip in favorable conditions.

Logistics
Overnighting
If you are an advanced cross-country skier, you could do the entire 21 miles in one day. Otherwise, plan to stay overnight near Glacier Point. There are two options for overnighting.
One option is to stay at the Glacier Point Ski Hut. In the winter, the Glacier Point visitor center is converted into a staffed, cozy winter hut with food provided. Reservations are required.
The other option is to snow camp around Glacier Point. No reservations are needed, but a wilderness permit (obtainable from the Badger Pass Ranger Station) is required. Of course, this option requires proper snow camping equipment and experience. This is the option that we chose.
Getting to the Trailhead
The trail starts at Yosemite Ski and Snowboard Area (formerly known as Badger Pass Ski Area). There is an area in the back of the parking lot that is designated for overnight parking. Tire chains/cables may be required in winter.
Food Planning
If snow camping, you must bring your own food, stove and bear canister (yes, even in winter, although above certain elevations, Yosemite does allow food hanging in the winter). Water must be obtained through melting snow, so be sure to bring extra fuel. Also, if the temperature is low enough, canister stoves will not work, and white gas or inverted canister stoves are required.
Equipment
The trail can be done on snowshoes or cross-country skis. Rentals are available at the cross country center. Since the trail is groomed and the grade is gentle and rolling, cross-country skis are sufficient.
The Hike
Day 1: Badger Pass to Glacier Point
Distance: 10.5mi

Elevation gain/loss: +800ft -800ft

Min Elevation: 7,200ft

Max Elevation: 7,800ft
The trail to Glacier Point is long, but very easy to follow in good conditions. It is a groomed cross-country ski track the entire way. It should generally take 4-5 hours one way. In snowy conditions however, trail-breaking may be required, which will significantly slow down the pace.
There is nothing very steep, but there are some sections of sustained descent. Ensure that you are comfortable with braking or taking off the skis to walk.
While the scenery is not very interesting in the beginning, after 6 miles, you come to a great viewpoint of the Clark Range, which also makes for a good lunch spot. At the 9 mile mark, the long and windy descent to Glacier Point begins. You can also stop at Washburn Point, which has a great view of Half Dome, Vernal and Nevada falls. Eventually, after coming around a corner, you'll find Half Dome looming right in front of you.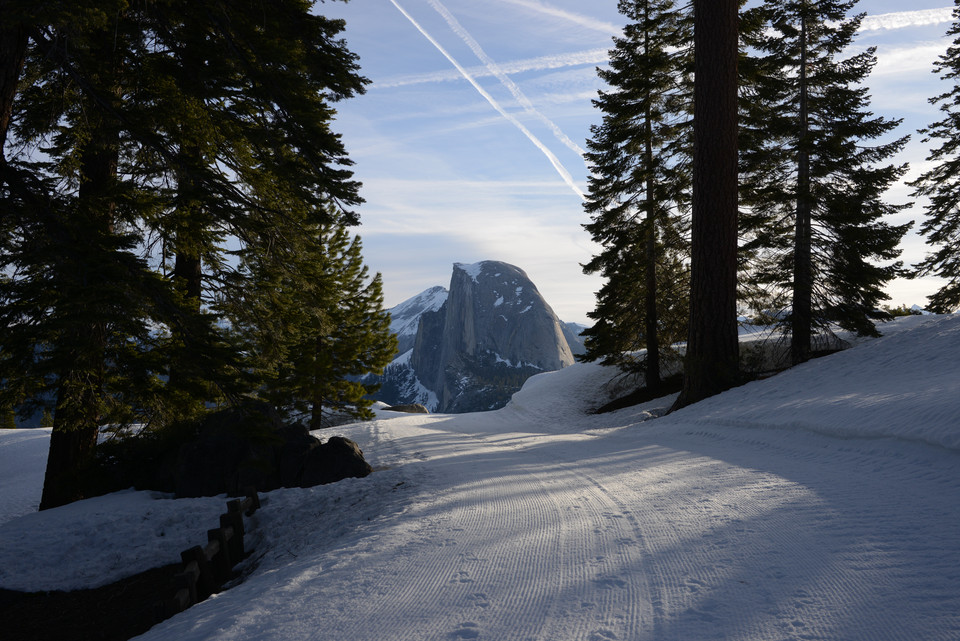 One more turn and you've arrived at the parking lot. From there, you can find anywhere that's off of the trail to set up camp. There are 3-4 areas where you can set up camp with direct views of Half Dome.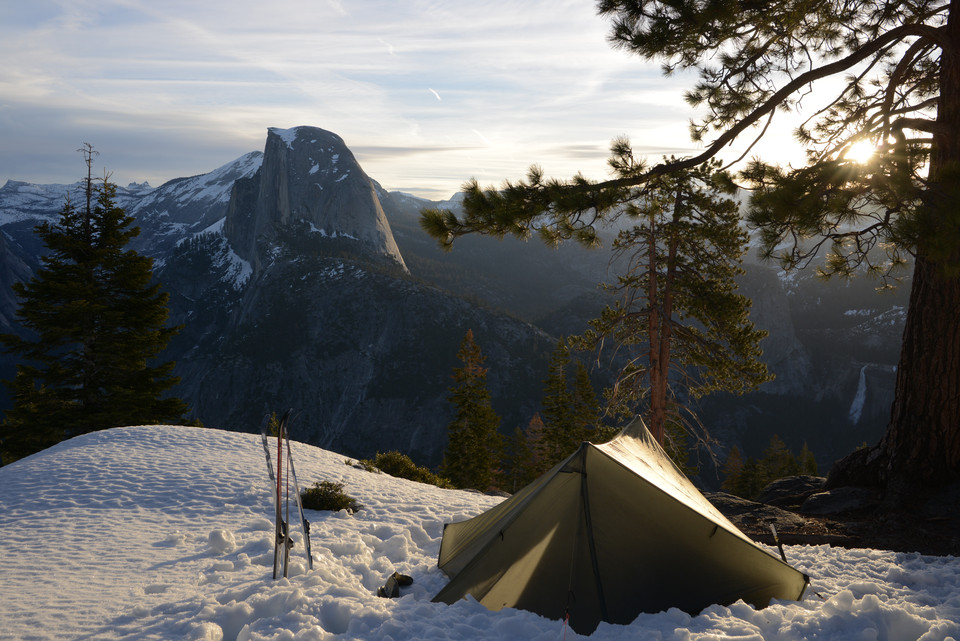 Day 2: Return to Badger Pass
Distance: 10.5mi

Elevation gain/loss: +800ft -800ft

Min Elevation: 7,200ft

Max Elevation: 7,800ft
Summary
The trip to Glacier Point in the winter is a must-do for any intermediate cross-country skier or snowshoer. While most of the trail is not very scenic, the views at the end are spectacular and worth doing at least once.